The Arts
WELCOME TO THE ARTS
Welcome to the arts page. I am Mrs. McMahon. Music has always been a big part of my life. I enjoyed singing in choirs and playing the saxophone in the school band during my elementary and high school years. I have found that the opportunity to experience and participate in the arts truly enriches our lives. I am thrilled to have the privilege of teaching your children art, music, drama and dance.
Our students participate in arts activities daily. I plan to continue the practice of offering a variety of sensory based items and various props to engage the students' senses. Students are encouraged to move and follow along with the actions in familiar songs. During our music classes students will continue to explore the sounds of various instruments and will create some instruments of their very own using materials we use in our daily lives. They will also experience different genres and styles of music that are represented in various cultures around the world. During drama students will be introduced to different plays, stories and poems. We will act some out, as well as create poems and stories of our own.
Our world is such a beautiful place filled with wonder. I look forward to sharing pictures and activites with you throughout the remainder of the school year.
Experience, explore, enjoy and express yourself,
Mrs. McMahon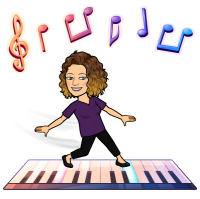 Mrs. McMahon
---