The Arts
Welcome to the Arts!
Welcome to the Arts! With the start of a new semester here at JMCC, we have experienced a lot of change in the music and arts department. Our much loved Mrs. M. , along with her sidekick "Seemore" the guitar, have entered into retirement, which means that I, Mrs. MacDougall, now have the privilege to teach each and every one of our amazing students at JMCC about the arts!Many of you may already know me, as I have taught many of our students before in the classroom. But this new role presents an exciting opportunity for me and one which I hope proves to be enriching, exciting and engaging for all of our students.


The arts have played an important part of my own personal and educational growth and I am so excited to share that passion with the students. Experiencing art, drama, dance and music on a daily basis, positively benefits many aspects of student learning. It helps foster creativity, confidence, inclusion, communication and problem-solving skills, just to name a few. The benefits are endless!

Our students will participate in 50 minutes of arts activities daily. We will incorporate other aspects of the curriculum, including literacy, numeracy and science whenever possible. The use of various props during dance, such as ribbons, scarves and the parachute, will encourage gross motor movement and self-expression. The students will engage in a variety of visual art activities, using various tools. We will be celebrating the process of art, just as much as the finished product. There is no right or wrong way in exploring one's own creativity!

During our music classes, the students will explore the sounds of various instruments and will create some of their very own instruments using materials we use in our daily lives. They will listen to various genres and styles of music that are represented in various cultures around the world. We have a very exciting and busy semester ahead and one which we hope will instill a love for music and the arts! Stay tuned for more details about our program!


A special note to parents:

Early childhood arts and cultural activities can significantly strengthen parent-child bonds and engage families in their children's learning, providing a positive focus for shared experience and communication. Try to find ways to bring music and dance into your routines at home, such as listening to music as you prepare meals or incorporating special songs sung at bed time.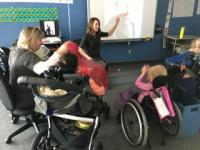 Mrs. MacDougall
---