Mrs Wirag's Classroom
Welcome to Mrs Wirag and April's Classroom
"Learning is about relationships, most of which are found while making discoveries"
Class 2 students are all about building those relationships with each other and with the world around them. We are learning to work with some independence and how to work and take turns in a group. Centres, whether it is Math or Science or Art related, give us opportunities to physically explore thnigs and to try things when manipulating them. Our room is a calm and safe place for the students to develop interpersonal skills, physical development and academic skills.
Happy New Year!
Mrs. Wirag
Class 2 Daily Schedule
8:55 – 9:10 Classroom routine- bathroom, attendance, new from home
9:10-9:30 Guided play
9:30-9:45 Snack
9:45-10:35 The Arts with Miss M
10:35-11:20 Circletime and Literacy
11:25-12:25 Lunch/Lunch recess
12:25-1:00 Guided Play
1:00-2:00 Centers (Art, Math or Science)
2:00-2:40 OT Activities/Gross Motor
2:40-2:55 – Ready for home – news for home, coats on, back into wheelchairs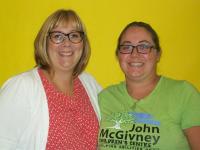 Mrs Wirag and April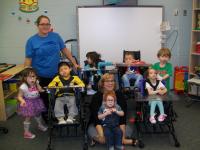 Class 2
---
What We Are Learning
Welcome January! We are staying warm and getting back into the routine of things. We are also working at taking our winter clothes off and on with some independence!
We will be joining our friends in Class 1 to participate more in sensory groups or literacy groups. Our theme will be The Ocean – our focus will be on sensory goals/exploration or letter sounds phonics and reading comprehension depending on the group.
In Math, we will continue to focus on shapes. We will also begin simple pattern creation, using shapes and colours. We will be having fun on the Smartboard, art projects, Ipads and magnetic sheets while practicing these skills.