Mrs Wirag's Classroom
Welcome to Mrs Wirag and April's Classroom
"Learning is about relationships, most of which are found while making discoveries"
Class 2 students are all about building those relationships with each other and with the world around them. We are learning to work with some independence and how to work and take turns in a group. Centres, whether it is Math or Science or Art related, give us opportunities to physically explore thnigs and to try things when manipulating them. Our room is a calm and safe place for the students to develop interpersonal skills, physical development and academic skills.
Mrs. Wirag
Class 2 Daily Schedule
8:55 – 9:10 Classroom routine- bathroom, attendance, new from home
9:10-9:30 Guided play
9:30-9:45 Snack
9:45-10:35 The Arts with Miss M
10:35-11:20 Circletime and Literacy
11:25-12:25 Lunch/Lunch recess
12:25-1:00 Guided Play
1:00-2:00 Centers (Art, Math or Science)
2:00-2:40 OT Activities/Gross Motor
2:40-2:55 – Ready for home – news for home, coats on, back into wheelchairs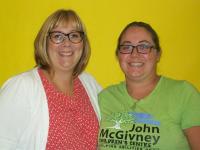 Mrs Wirag and April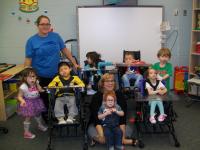 Class 2
---
What We Are Learning
Spring has finally sprung!
In class, we are working on patterns and counting groups of objects, suc as socks, eggs, bubbles, etc. We continue to join Class 1 on Tuesdays and Thursdays for gym, where we throw bean bags, push big balls and walk/wheel in and out of pylons with our friends. Literacy and Sensory groups contniue with Class 1 on Mondays and Wednesdays. we will be finishing our ocean unit and will begin a new theme based on the students' interests.
We are looking forward to the sunshine and wamer weather so that we can go outside to explore and to play. We are also excited to go on a few field trips for some adventures! So look for some information regarding this in next moth's newsletter.