Mrs Targachoff's Classroom
Welcome to Class 4
Teacher: Kristy Targachoff
Educational Assistant: Carrie
Deaf / Blind Intervener: Michelle
---

Welcome to our brand new web page. How exciting that we are now able to share pictures and information through this site.
My "Newsletter" will be posted monthly and pictures will be posted weekly.
Anything you would like to see on the website please feel free to send a note with your thoughts.
Mrs. Targachoff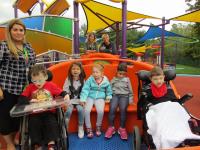 Class 4
Mrs. Targachoff, Carrie and Michelle
---
Education Corner
We had a wonderful month of September getting to know each other and reading our "All About Me" packages. Thank you for taking the time to complete the package. These packages really gave us a chance to get to know one another and read about some of your children's interests, likes and dislikes.

The new playground has been completed and is now open for the children to play. The children are very excited and love getting fresh air and exploring the new play area. The smiles on their faces and the relationships that are forming are priceless.

Throughout the month of October we will continue learning our classroom routines and getting familiar with our new classroom right down the hall. We will also continue working on numbers 1-20, shape recognition, recognizing letters and their sounds and even some sight words.

We have introduced a new story book called "The Magic Stick". In this book the children get to explore new and fun words that rhyme with stick. The book also comes with a Magic Stick that the children love to hold, touch and pass onto their friends utilizing their sensory skills.

Next week I will start sending this book home with your child along with the pre-recorded story on a step by step. This will give you the option of following along with Mrs. T while she reads and / or parents reading the story.

Every morning we have our morning meeting, which includes: Canadian National Anthem, Attendance, Greetings and News. If you would like a step by step to share news please let me know. The children seem to really enjoy listening and sharing their news.
---
CLASS 4's DAILY SCHEDULE:
8:40 - 9:35 am:
Welcome; Morning Meeting (O Canada, Communication Activities)

9:35 - 10:00 am:
Student Choice Activities

10:00 - 10:30 am:
O.T Classroom Based Goals

10:30 - 11:00 am:
Numeracy /Numeracy Literacy Block

11:00 - 11:25 am:
Morning Circle

11:25 - 12:25 pm:
Lunch

12:25 - 12:55 pm:
GYM/Classroom Based P.T. Goals

1:00 - 1:15 pm:
Hand Hygiene & Student Classroom Jobs

1:15 - 2:05 pm:
Music & Visual Arts (Mrs. M)

2:05 - 2:35 pm:
Technology

2:35 - 2:55 pm:
Big Book (Literacy Block)

2:55 pm:
Dismissal
---
Fun Links