Miss Laforet's Classroom
Welcome to Class 5!

About our Program
Our program consists of many opportunities for students to explore math and literacy in whole class, small group and indepedent learning settings. During whole class learning, students engage with their classmates, participate in group discussions and practice turn taking. In our classroom, we use whole group learning circles to read stories and teach or reinforce new skills and concepts. Small group learning is ideal for teaching specific skills to a few students focusing on individualized differentiated instruction. Individual learning gives each child opportunities to work on activities based on their individual learning plans. Technology and play based learning are often used in independent learning as a motivational tool.
Another huge part of our program is core communication. Core language is modelled for the students consistently throughout the day using both a communication board and Vantage. Students are also encouraged to use core communication in their daily interactions through oral language, core communication boards, Minspeak devices and Step by Steps.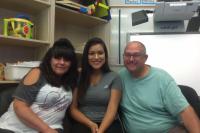 Mrs. Tracy, Ms. Laforet & Mr. Dave
Our students :)
---
What We Are Learning
We had a great start to the 2017-2018 school year! Our main focus in September was getting to know each other, building an inclusive classroom community and developing a routine. During our morning circles, we have been learning about each others families, pets and personal perferences such as our favourite colour and favourite food. We have really enjoyed getting to know all of the students in the classroom and are eager to continue to get to know them throughout the year.

In October, we are learning to read Vantage and Boardmaker modified texts on our Minspeak devices and Step by Steps. This activity has led to a lot of great conversations! The students have answered "wh" questions based on texts that they have read and have also begun to work on sequencing stories. Students have also been learning to write journals using sentence starters such as "I like" on their Minspeak talkers. Some of the students using boardmaker symbols have begun to use core language or to choose between two picture phrases to describe photos of themselves. Our weekly journals have been a source of pride for many of our students. They have really enjoyed sharing their work with the class as well as listening to the journals other classmates have written.
In November, we are going to be focusing on measurement. During whole group math lessons, students will be exposed to various types of measurement (ex. time, temperature, length) and student's small group and independent math activities will be based on each child's specific IEP measurement goals. In literacy, we will be starting both the Balanced Literacy program and a modified version of the Kindergarten PALS Reading program. Balanced Literacy is a program that focuses on early literacy instruction for beginning readers. It integrates guided reading, supported writing, word study and phonics activities built around an animal theme. PALS is a highly structured literacy program that focuses on letter-sound correspondence, decoding, phological awareness and sight words. All students will do both programs in whole group lessons, with some students doing additional work in small group activities or independently.
October Newsletter